Waikiki Beach Car Rentals
Shopping Tip: Shop where the locals shop! Ala Moana. The beautiful outdoor mall is located between downtown Honolulu and Waikiki Beach.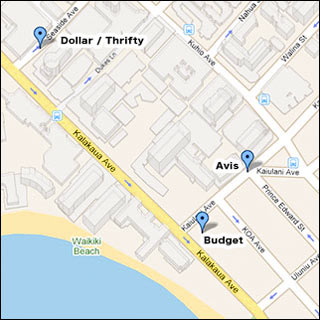 Waikiki is actually a neighborhood of the city of Honolulu. The beach is situated on the south shore of Oahu and is one of the most famous beaches in the world.
The beach at Waikiki is bookended by Ala Wai Canal to the east & the infamous Diamond Head to the west.
The area truly has remarkable views of the dormant volcano Diamond Head (which is a really fun place to explore). Being on the south shore, the weather is typically warm and cloud-free.
The beach at Waikiki, is actually fairly small & the ocean is quite shallow for some distance. Waders should be aware as the bottom can be strewn with rocks in some areas. The surf at Waikiki is known to its long rolling break, especially on calmer days, making it an ideal place for beginners of surfing sports (photo below).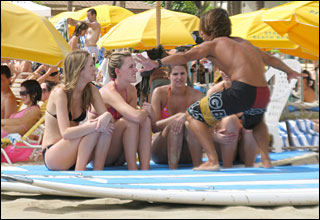 For many years there has also been free movies shown each weekend day at the beach in Waikiki. Visitors are treated to an outdoor film on a 30 Ft. The event is titled, "Sunset on the Beach". The movie venue is located at Queen's surf, across the street from the Honolulu Zoo (also very fun). Musical entertainment often starts 2 hours before the film is shown.
Find more activities at our Things To Do in Oahu page.
Get a no-hassle quote for a Waikiki rental car using or simple form. We also offer Honolulu car rentals.
Cheap Waikiki Rental Cars
Driving Map of the Waikiki area to help enhance your rental experience.